Remembering Hugh Masekela: the horn player with a shrewd ear for music of the day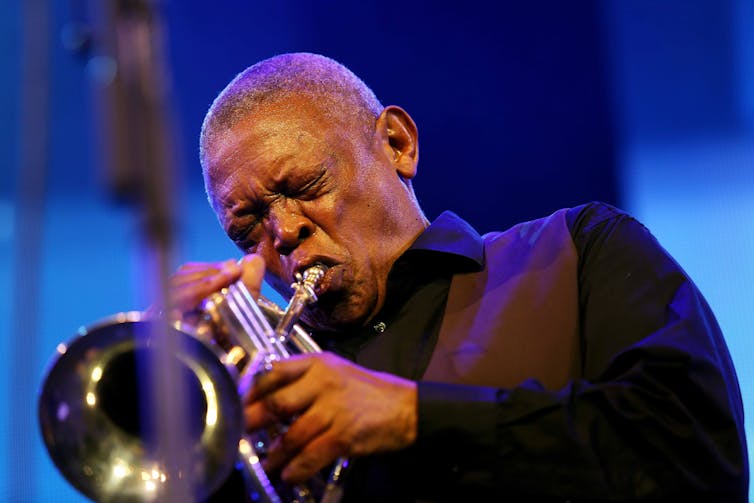 Gwen Ansell, University of Pretoria
Trumpeter, flugelhorn-player, singer, composer and activist Hugh Ramapolo Masekela has passed away after a long battle with prostate cancer.
When he cancelled his appearance last year at the Johannesburg Joy of Jazz Festival, taking time out to deal with his serious health issues, fans were forced to return to his recorded opus for reminders of his unique work. Listening through that half-century of disks, the nature and scope of the trumpeter's achievement becomes clear.
Masekela had two early horn heroes.
The first was part-mythical: the life of jazz great Bix Biederbecke filtered through Kirk Douglas's acting and Harry James's trumpet, in the 1950 movie "Young Man With A Horn". Masekela saw the film as a schoolboy at the Harlem Bioscope in Johannesburg's Sophiatown. The erstwhile chorister resolved "then and there to become a trumpet player".
The second horn hero, unsurprisingly, was Miles Davis. And while Masekela's accessible, storytelling style and lyrical instrumental tone are very different, he shared one important characteristic with the American: his life and music were marked by constant reinvention. As Davis reportedly said:
I don't want to be yesterday's guy.
Much has already been written about Masekela's life and its landmarks: playing in the Huddleston Jazz Band in the 1950s on a horn donated by Louis Armstrong; performing in the musical "King Kong" in the 1960s and at the Guildhall and then Manhattan schools of music with singer Miriam Makeba; US pop successes in the 1970s and then touring Paul Simon's "Graceland" in the 80s and 90s.
What is less discussed is the music, and the innovative imagination he has periodically applied to draw it fresh from the flames.
Breaking new ground
The Huddleston band, plus time as sideman and in stage shows, were the traditional career path for a young musician. But then Masekela broke his first new ground. With fellow originals, including saxophonist Kippie Moeketsi, pianist Abdullah Ibrahim and trombonist Jonas Gwangwa, as The Jazz Epistles they cut the first LP of modern African jazz in South Africa.
"Jazz Epistle: Verse One" (1960) featured band compositions marked by challenging improvisation – "a cross between mbaqanga and bebop". Mbaqanga is form of South African township jive and bebop an American jazz style developed in the 1940s.
Masekela had also joined the pit band and worked as a copyist for South Africa's first black musical, "King Kong".
This exposure attracted attention to his talent from potential patrons at home and abroad. Pushed by the horrors of the Sharpeville massacre when the South African police shot and killed 69 people on 21 March 1960, and pulled by donated air-tickets and scholarships, Masekela left for London, and then New York.
In the next two decades, Masekela's re-visioning of his music took many forms. He found America hard, but with wife Miriam Makeba (the marriage lasted from 1964 – 1966), the production skills of Gwangwa, and the support of American singer Harry Belafonte he proactively introduced audiences to South African music and the destruction of apartheid.